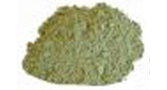 Andrographis paniculata, the Kalmegh of the Ayurveda, is an erect annual herb extremely bitter in taste in each and every part of the plant body. The plant is known in north-eastern India as 'Maha-tita', literally 'king of bitters', and known by various vernacular names . It is also known as 'Bhui-neem', since the plant, though much smaller in size has a similar appearance and has the same bitter taste as that of Neem (Azadirachta indica).
In Malaysia, it is known as 'Hempedu Bumi' literally means 'bile of earth' since it is one of the most bitter plants that are used in traditional medicine. In Tamil it is called 'Sirunangai' or 'Siriyanangai'. The genus Andrographis consists of 28 species of small annual shrubs essentially distributed in tropical Asia. Only a few species are medicinal, of which Andrographis Paniculata is the most popular.
The plant is well known in Bengal by the name 'Kalmegh'. It is a principal herb in the domestic medicine called 'Alui', which is given to infants. Both in Ayurveda and Unani, it is confused with 'Chitetta' (Swertia chirata), but both are different plants. It is widely available in Arabia. It is mentioned in the official pharmacopoeia of India.. It is given for fever along with several herbs. It was advertised in England as a substitute for quinine.
Andrographis Paniculata is traditionally known as kalmegh. The plant belongs to family Acanthaceae and is widely used in Ayurvedic and Homeopathic systems of medicine. The plant grows in waste grounds and prefers moist habitat. The herb is bitter in taste and has weak odour. The whole plant may be used in medicine. It is widely cultivated in southern Asia, where it is used to treat infections and some diseases, often being used before antibiotics were created. Mostly the leaves and roots were used for medicinal purposes.
Andrographis paniculata is distributed in tropical Asian countries, often in isolated patches. It can be found in a variety of habitats, e.g. plains, hill slopes, waste lands, farms, dry or wet lands, sea shores and even road sides. Unlike other species of the genus, Andographis paniculata is of common occurrence in most places in India, including the plains and hilly areas up to 500 m, which accounts for its wide use. Since time immemorial, village and ethnic communities in India have been using this herb for treating a variety of ailments.
| | | |
| --- | --- | --- |
| Botanical Name | : | Andrographis paniculata |
| Common Name | : | Creat, Kariyat, Indian Echinacea, Kalmegh |
| Family Name | : | Acanthaceae |
| Standardized For | : | Andrographolide 10% |
| Description | : | Greenish Brown Coloured Powder Having Bitter Taste |
| Plant part used | : | Whole Plant, Leaves |
| Applications | : | Anti-biotic, anti-viral, anti-parasitic and immune |

Health Benefits
Compounds responsible for the pharmacological effects of Bacopa include alkaloids like Brahmine and herpestine, saponins d-mannitol and hersaponin, acid A. The constituents responsible for Bacopa's cognitive effects are bacosides A and B.
It is used to cure diarrhoea, dysentery and enteritis.
It is useful in fever, cough, sore throat, bronchitis and tonsilitis.
It is used in hypertension, menstrual and post-partum haemtometra.
Andrographolide, the most active Phytochemicals found in Kalmegh Extract have cancer cell-killing abilities.

Uses
Andrographis paniculata can cause severe allergic reactions. Commercial products containing this as a herbal remedy have been recalled in Australia as a result.
Since ancient times, A. paniculata is used in traditional Siddha and Ayurvedic systems of medicine as well as in tribal medicine in India and some other countries for multiple clinical applications. The therapeutic value of Kalmegh is due to its mechanism of action which is perhaps by enzyme induction.
The plants extract exhibits antityphoid and antifungal activities. Kalmegh is also reported to possess antihepatotoxic, antibiotic, antimalarial, antihepatitic, antithrombogenic, antiinflammatory, anti-snake venom, and antipyretic properties to mention a few, besides its general use as an immunostimulant agent. A recent study conducted at Bastyr University, confirms the anti-HIV activity of andrographolide.
Andrographis paniculata plant extract is known to possess a variety of pharmacological activities. Andrographolide, the major constituent of the extract, is implicated in its pharmacological activity. A study has been conducted on the cellular processes and targets modulated by andrographolide treatment in human cancer and immune cells.
Results suggest that andrographolide is an interesting pharmacophore with anticancer and immunomodulatory activities and hence has the potential for being developed as a cancer therapeutic agent. The Tamils have been using Nilavempu - as it is called in Tamil for centuries. In Siddha medicine, Andrographis Paniculata is used widely to treat fevers like chikenguinea, swine-flu, typhoid etc.

Traditional and modern use
Kalmegh is used mainly for liver disorders and jaundice. A decoction or infusion of leaves is used in general debility and dyspepsia and a tincture of the root as a tonic, stimulant and aperient. The macerated leaves and juice, together with carminative spices such as cardamom, clove and cinnamon, may be made into pills and prescribed for gripe and other stomach ailments in infants.
The leaves and roots also find use as an antispasmodic, febrifuge, stomachic, alterative, anthelmintic anodyne, antiseptic, laxative, astringent, and antipyretic and have been used as an adjunct in the treatment of diabetes, malaria, cholera, dysentery, enteritis, gastritis, pneumonia, pyelonephritis and even rabies. It is also a major constituent of switradilepa, an Ayurvedic preparation which is used to treat vitiligo.