Tribulus terrestris Extract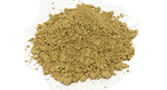 Tribulus terrestris is an herb of zygophyllaceae plant family. This is an annual herb. The leaves are about 1 to 5 cm. long. The leaflets are 3-6 pairs and oblong to ovate or elliptic. The flowers are yellow. The fruits are about 5 to 12 Cms. In diameter with 2 hard spines.
Tribulus terrestris is found in tropical climates of the world. It is found mainly in India, America, and Australia. Pedalium murex is native to India. In Ayurveda former variety is known as Kanti Gokharu and later as Boda Gokharu. Medicinal uses are more or less same for both the varieties.
| | | |
| --- | --- | --- |
| Botanical Name | : | Tribulus terrestris |
| Family Name | : | Zygophyllales |
| Common Name | : | Puncture vine, gokshur, Gokharu, Small Caltrops |
| Standardized For | : | 20%, 40% and 60% Steroidal Saponins by Gravimetry |
| Description | : | Light to Dark Brown Coloured Powder |
| Plant part used | : | The dried aerial parts of the ground creeper Tribulus Terrestris |
| Application | : | Body building. Also used as an Aphrodisiac |

Benefits
Tribulus is non-irritant diuretic and urinary antiseptic. It is used in case of dysurea, urinary stone and incontinence of urine.
Tribulus Terrestris is used in various herbal formulas to treat headaches, eye problems such as itching, conjunctivitis and weak vision, and nervousness. It is also used to treat high blood pressure and rib pain.
The hormone balancing effects of Tribulus Terrestris for women makes this herb suitable for premenstrual syndrome and menopausal syndrome.
Tribulus contains Sterols like betasitosterols or stigma. These substances protect the prostate from swelling and in combination with the X steroidal saponins, protect the prostate from cancer.

Technical Specification
Test

Specification
Description
light to dark green powder having characteristic odour and bitter taste
Colour
Light to dark brown
Botanical Name
Tribulus terrestris
Indian Name
Puncture vine, gokshur, Gokharu, Small Caltrops
Plant Part Used
The dried aerial parts of the ground creeper Tribulus Terrestris
Odour & Taste
Characteristic odour and taste
Loss on drying
NMT 5%
Particle Size
100% through 40 Mesh
Bulk Density (Tapped)
0.40 to 0.70 gm/cc
Identification
Positive for Saponins by TLC
Assay
Saponins by Gravimetry (As is)
NLT 60%
Microbiological
Total Plate Count
NMT 1000 cfu / gm
Yeast & Mould
NMT 100 cfu / gm
E. coli & Salmonella
Absent
Coli forms
Absent
Heavy metals
NMT10ppm