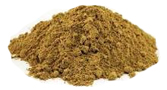 Much modern research has focused on the activity Bacopa monnieri demonstrates in the Central Nervous System. Recent studies indicate that Bacosides, Bacopa monnieri's primary components, enhance nerve impulse transmission, helping improve concentration, learning, memory, and attention span as well as other higher order cognitive functions.
| | | |
| --- | --- | --- |
| Botanical Name | : | Bacopa monnieri |
| Common Name | : | Brahmi, bacopa, Babies tear |
| Family Name | : | Scrophulariaceae |
| Standardized For | : | 10%, 20%, 40%, 50% Bacoside by UV |
| Description | : | Light to Dark Brown Powder |
| Plant part used | : | Whole Plant and sometimes the leaf |
| Applications | : | Brain/nerve rejuvenation, Stress reduction |

Active Constituents
Compounds responsible for the pharmacological effects of Bacopa include alkaloids like Brahmine and herpestine, saponins d-mannitol and hersaponin, acid A. The constituents responsible for Bacopa's cognitive effects are bacosides A and B.

Benefits of using Brahmi
Brahmi is effective against diseases like bronchitis, asthma, hoarseness - It has a relaxant effect on Pulmonary arteries, aorta, trachea, and ileal and bronchial tissue Effective against arthritis, rheumatism, backache Effective against constipation, digestive problems, emetic and laxative etc. Brahmi has Cardio tonic It has anticancer properties - due to inhibition of DNA replication in cancer cell lines Anti-aging herb Improve Mental Problems.
The most popular use of Bacopa is associated with treatment of various mental problems. Brahmi is useful for improving mental clarity, confidence, retention capacity, concentration and memory recall. For these uses of Brahmi, it has been widely used by students.
In order to improve the memory, of human being it is advisable to take bacopa on a regular basis. This is because Bacopa improves the blood circulation to the brain.


Mechanism
Bacopa has ability to induce enzyme and protein synthesis at specific sites in the brain like the hippocampus (where memories are created) which is responsible for laying down new memories.
Bacopa is also found to be beneficial for treating emotional disturbances, mental imbalances. It also cures and prevents geriatric mental problems like Alzheimer disease and amnesia. Bacopa is also used for making brain tonics.


Mechanism

Triterpenoid saponins and Bacosides of Bacopa play key role for enhancing nerve impulse transmission. Bacosides support the repair of damaged neurons by enhancing kinase activity,neuronal synthesis, restoration and regeneration of synaptic activity resulting in nerve impulse transmission. These effects make it a wonderful nerve tonic or nerve nourishing agent.

Treating Insomnia - The cooling property of Bacopa is used for treating insomnia.
Skin Treatment - Bacopa is a good medicine for treating skin diseases eczema, psoriasis, abscess, ulcerations- it stimulates the growth of skin, and nails. It is a blood cleansing herb used for detoxifying the blood.
Remedy for Hair Loss - Bacopa has good antioxidant property which can be used for transmitting the proper nutrition to the hair roots and thus it promote hair growth. Bacopa makes the head cool and allow the hair to grow luxuriantly. Bacopa prevent the color change of the hair and the splitting of the hair tips. It also cures the dandruff problems and thus makes the hair strong.
Healing Alzheimer's disease - Loss of cholinergic activity in hippocampus was the primary cause of Alzheimer's disease. Bacopa showed important antioxidant activity in many brain parts like hippocampus, striatum and frontal cortex. Further studies showed it has protective effect against DNA damage in atrocities and fibroblast cells.
Treating Epilepsy - Anti-epilepsy drugs have some side effects as cognitive impairment. Simultaneous administration of Bacopa with such medication improved acquisition and retention of memory.
Bacopa Improving Learning Skills - All the anti-depressants - SSRI's, Tricyclic antidepressants and MAO inhibitors produce two effects - the augmentation of the effect of nor epinephrine and serotonin by blocking their intracellular depletion. Bacopa helps by increasing the production and availability of serotonin.
Bacopa In Stress - Bacopa show potential effect against stress. The level of Hsp70 increases in brain as a response to stress. After giving Bacopa, the Hsp70 was found in lower concentration.
Bacopa Potentiating Barbiturate Action - Epilepsy patients can benefit from Bacopa. It potentiate the effect of Barbiturates so they are needed in lower dosage. Plus there would be relief from other side effects like behavioural abnormalities, diminution of intelligence, impairment of learning and memory, hyperactivity in children and mental confusion in older patients.
GABAergic Action Of Bacopa - Bacopa meditates the GABAergic system. Gamma-aminobutyric acid is an inhibitory neurotransmitter that has been shown to possess anticonvulsive, antinociceptive (prevention of pain due to hypersensitive nerve endings), locomotor, and sedative effects.

Side Effects of Bacopa monnieri
Do not take Bacopa monnieri if you are pregnant or breast-feeding.
Check with your doctor before giving Bacopa monnieri to children.